| | | |
| --- | --- | --- |
| | | |
| NCS0402 - OEM version - front | | NCS0402 - OEM version - back |
Overview
The NCS0402 is a ready-to-use network connectivity platform intended for combined ethernet and GSM network connectivity applications. It also contains a serial port (RS232/RS485).
The NCS0402 integrates an ID1021 module and a Siemens GSM modem, therewith enabling both local ethernet access and remote wireless access using a GSM network.
Applications
Typical applications for the NCS0402 are:
Web interface for OEM product that can be accessed locally over ethernet and remotely over the internet (GPRS).

SMS alarming & control.

GPRS-to-Ethernet bridge, for enabling wireless internet access to OEM device with ethernet interface.

GPRS-to-Serial bridge, for enabling wireless internet access to OEM device with RS232 or RS485 interface.
Functions that can be realized with the NCS0402:
Remote control/configuration of OEM product using ethernet and/or SMS, GSM data or GPRS.

Bridging/tunneling of existing RS232 or RS485 protocol over GSM data/GPRS.

Remote servicing/upgrading of OEM product firmware/software/databases via GSM network.

Remote data acquisition & logging over GSM, periodic retrieval of data using FTP (GPRS).
Click here for more details about the Necoso connectivity solutions that are based on the NCS0402.
---
Specifications
Hardware
Housing: Anodized aluminium
Dimensions: 168 x 110 x 54 mm (l x w x h)
Supply voltage: 9 - 12V DC
Power consumption: < 1000 mA
Temperature range: 0 - 70° Celsius
Internal processing core: ID1021 module
Internal GSM modem: Siemens MC35iT
External interfaces:
1 x Ethernet, 10 Mbit, UTP (RJ45)
1 x RS232 (V.24, male DB9)
1 x RS485 (optional, male DB9)
8 free programmable LED indicators
Power interface connector
1 power LED (green)
GSM antenna connector (FME)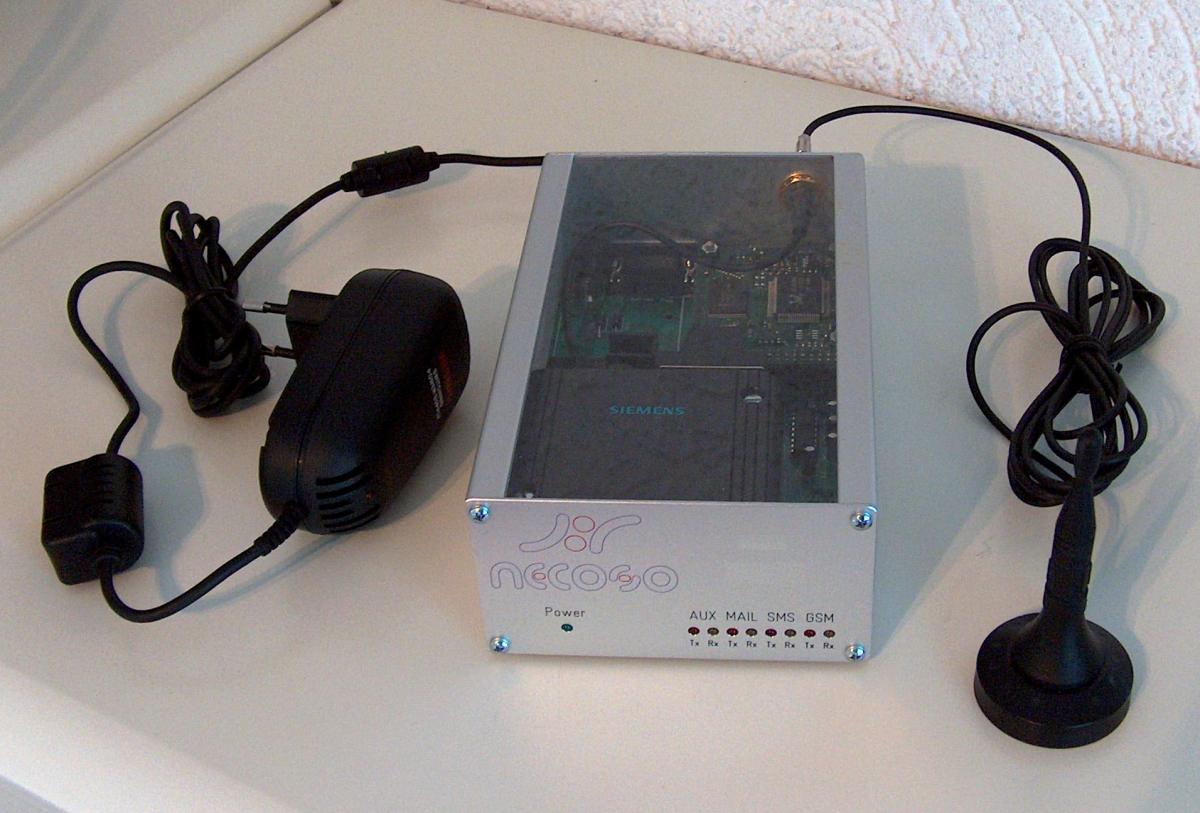 NCS0402 - with GSM antenna and power adapter
Included:
A dual-band GSM antenna, with 2.5 m coax cable.

AC/DC power adapter for converting mains to 9V DC.
Not included:
SIM card
Cables for RS232 or RS485 connections to device/machine
Customization options:
Add-on internal I/O board for custom I/O interfaces (26-pole connector, max PCB size = 1/3 Euro-card)
Additional host interfaces made available on outside of housing
OEM name/logo engraved on front/back of housing
Software
The NCS0402 includes a ID1021 module that comes with the following software pre-installed in the internal flash memory of the Renesas microcontroller:
Dedicated OS that provides resource management and scheduling services. Supports multiple concurrent applications. Application Programming Interface (API) is available for writing your own applications.

TCP/IP stack that includes Ethernet v2.0, IEEE 802.3, ARP, IP, ICMP, UDP, TCP, NetBIOS, DHCP, telnet, HTTP, FTP.

Embedded FTP server, HTTP server, telnet server

Embedded file system for flash EEPROM, serial EEPROM and (optional) RAM disk. Run-time accessible with FTP.
Click here to download ID1021 datasheet
Application software:
Necoso GSM Application Suite for SMS, GSM data and GPRS. APIs are available.
Documentation
ID1021 Installation Manual (OEM version)
ID1021 Application Notes
GSM Application Installation Manual (OEM version)
All documentation is available in electronic format (MS-Word) and can easily be customized for OEM product.
---
Availability options
Ready-to-use protocol converter
The NCS0402 is available as a ready-to-use protocol convertor. Necoso has realized software applications for the most commonly used GSM / ethernet / RS232 / RS485 protocol conversions. The protocol conversion application will be pre-installed on the flash disk of the ID1021.
Click here for more details about the ready-to-use Necoso protocol converters.
OEM network connectivity platform
The NCS0402 is also available as an OEM platform for realizing your own boxed network connectivity solutions or protocol converters.
Click here to contact us for more information.