Latest news
19-September-2008: GPS support for NCS0402 platform
Today Necoso released a GPS solution for the NCS0402 internet connectivity platform. The GPS solution is intended for mobile M2M applications that require location information of the target device/machine. The GPS solution supports both 2D (latitude/longitude) and 3D (latitude/longitude/altitude) location fixing.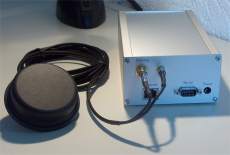 G2E bridge with dual-mode GSM/GPS antenna (click on picture to enlarge)
A smart dual-mode GSM/GPS antenna integrates both the GSM and GPS antenna hardware, so only one antenna needs to be installed! The GPS solution is based on the XT65 GSM + GPS engine from Cinterion and can be built into any existing NCSO402 based product (e.g. G2S bridge, G2E bridge, or customized product). The new GPS.ESA software application provides software support and an API for communications with existing NCS0402 software applications. System time & date synchonisation with clock from GPS satellites is also supported.
News archive
01-September-2008: SD card support for NCS0402 platform
SD cards are flash memory extension cards used mostly for mobile phones and digital cameras. They are small, cheap and offer large storage capacity. Currently SD cards are available in three formats: standard, mini and micro. As most modern PCs include a card reader for memory cards like the SD card, data written on the cards can easily be exchanged with a PC.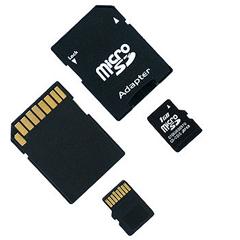 Micro SD card with adapter
As of today the NCS0402 platform also supports SD cards. A small interface board is available that allows for inserting a standard format SD card. Micro and mini SD cards can also be used, but require an adapter. (see picture above)
The SD card interface board fits on the extension connector of the NCS0402 platform. Any existing NCS0402 platform based application (e.g. G2S bridge, G2E bridge or custom data logger) can be extended with the hardware required for SD card support.
A new SD.ESA software application provides software support and integration of the card into the EFS file system. The application supports SD cards conforming to SD specification version 1.0, 1.10 and 2.00. High capacity SD cards (> 2 GB, SDHC) are also supported.
For more information about SD cards formats and standards, click here.
21-May-2008: Necoso presents 433 MHz Remote Remote Controller
Many people control their home appliances using 433MHz mains switches and a small remote control. But how remote can you really go? 10 meters? 30 meters? With the new Necoso Remote Remote Controller (RRC) you can stretch the reach of control to the far end of the internet world. The RRC combines internet technology with wireless 433 MHz technology and enables you to control your appliances even when you are not at home.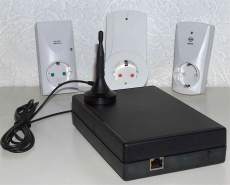 RCC with 433MHz mains switches from various manufacturers
For more details about the 433 MHz RCC, click here.
08-June-2007: Necoso demonstrates ethernet controlled MDB
Today Necoso demonstrated a mains distribution block (MDB) with an ethernet interface for remote switching on/off 230V/AC appliances. The MDB supports three mains groups of three schuko sockets each. Two of these groups can be switched on/off independently using a webbrowser or telnet. The third group is implemented as a 'always-on' group and cannot be controlled over the ethernet interface. The MDB is very user-friendly and can be installed directly between the appliances-to-be-switched and a mains socket. The maximum overall switching capacity of the MDB is 3500W.
For more details about the ethernet controlled MDB, click here.
23-December-2006: Necoso develops SMS Switch product for TWS Technologies
The 'SMS Switch' is a small switchbox for switching on/off of 220V devices with SMS messages. The SMS Switch is very user-friendly and can be installed between the device-to-be-switched and the mains socket. The SMS Switch supports devices up to 1000 Watts.
Apart from switching one 220V device directly, the SMS Switch can also control up to three 433 MHz 'slave' switch boxes. (e.g. standard 220V switchboxes of type 'Ranex Rx2585', effective wireless range is up to 30 meter)
Both communications between user and SMS Switch, and communications between SMS Switch and 433 MHz switchboxes, are based on wireless communications technology. (RF technology). The SMS Switch includes GSM modem for transmission and reception of SMS messages. It also includes a 433 MHz transmitter for control of the local 433 MHz switchboxes. Configuration of the SMS Switch parameters is done using SMS messages.
Necoso developed the complete SMS Switch product for TWS Technologies, including writing the product specifications, prototyping, hardware, software and mechanics design & implementation. Also the production of first batch of SMS Switches was managed by Necoso. (supervising assembly process, writing assembly instructions & test procedures)
For more details about the SMS Switch project, click here.
01-December-2006: First Nefit LogBoxes go online
The largest boiler manufacturer in the Netherlands, Nefit BV in Deventer, has deployed the first series of the LogBox product. The LogBox is data logger box that was especially developed for Nefit by Necoso. Its primary task is to 'watch over' a Nefit boiler at the site of a customer. This 'watching over' involves continuous gathering of boiler telemetry and checking if the boiler is functioning within its normal operational perimeters. As soon as the LogBox detects a boiler malfunction, it sends out a notification using SMS or e-mail. This triggers the Nefit service department to connect to the LogBox and remotely analyze the problem. The LogBox also allows for 'live' monitoring/controlling of the boiler.
The LogBox communicates with the outside world using a wired ethernet link and/or a wireless GPRS link. The TCP/IP protocol is used as the 'carrier protocol' for both media. On top of TCP/IP protocol the standard protocols like HTTP, FTP and telnet are used. The Nefit 'LogProt' propriety protocol for communication with the boiler is also transported over TCP/IP. This enables Nefit service personnel to communicate with a boiler from any PC or workstation in the world with that has internet access.
The GPRS option of the LogBox allows for communications with the boiler independent of the (wired) internet communication facilities at the location of the boiler. This was major design requirement of the LogBox, as often boilers are located at customer sites where no wired internet is available or use of internet facilities at hand is prohibited by site owner/customer.
For more details about the LogBox project, click here.
For more information about Nefit boilers: www.nefit.com
27-April-2006: Remote antenna filter steering for Favonian
The Favonian IF350 box is an add-on device for military radio equipment that allows for automated antenna filter steering and remote radio control over ethernet. The first batch of IF350 boxes is now deployed for NATO forces in Afghanistan.
The IF350 hardware is based on a Favonian motherboard and a Necoso ID1021 network module. The embedded software consists of set of standard Necoso applications for ethernet and a Favonian-specific application for radio monitoring and control. A simple web interface enables the user to get an overview of the radio and antenna filter status. A telnet interface allows for remote control and monitoring of the IF350 and attached devices. Necoso did all the application software development for the ID1021 module.
For more information about Favonian products: www.favonian.nl
09-November-2006: E-mail interface now also supports e-mail attachments
Necoso has released a new version of the e-mail application (SMTP.ESA) for the NCS0402 that enables sending data by e-mail attachment. Ideal for data logger applications that must transfer data to a internet server periodically. A new API is available so that other applications can make use of the new features of the e-mail application.
13-March-2006: Revised NCS0402 now available.
The revised NCS0402 is now available. The new aluminium housing allows for more external interfaces and easy integration in racks or closets. The re-designed main PCB includes the following improvements/new features:
26-pole connector for adding custom PCB (max 1/3 Euro-card)

GSM modem power can now be switched on/off by ID1021 module for total control

RS232/RS285 options for external serial port now jumper configurable

Improved and more compact positioning of LEDs

Improved power jack

SIM card interface and GSM LED can now be made available as external interfaces (option)
Click here for more details...
16-February-2006: Wake-On-Lan (WOL) application now available
Necoso has released a new software application that enables the G2E bridge to function as a Wake-On-Lan controller.
The Wake-On-Lan protocol enables remotely switching on a PC in an ethernet LAN by sending a special packet ('Magic Packet') to the the ethernet interface. If the ethernet controller of the PC supports WOL then it will switch on the PC when it receives the Magic Packet. The combination of the G2E bridge software and the new WOL application enables remote service to PCs in a LAN even if the PCs themselves are switched off. Typical applications are overnight remote updating of PCs for new software or data files (e.g. virus scanner updates)
10-Oktober-2005: E-mail interface for NCS0402 released
Necoso has released a new software application (SMTP.ESA) that realizes a e-mail interface for the NCS0402. E-mail can now be used for communication with the NCSO402, using either the ethernet or GPRS interface. The SMTP.ESA applications supports both SMTP host and client, so e-mails can be received and transmitted. The SMTP application supports transmission of CLI command in the subject line of an e-mail. Reponses to the CLI command will be returned also in form of e-mail. This effectively opens a third command-channel for the NCS0402, next to the exisiting Telnet and SMS channels.
Currently only plain-text e-mails are supported. Support for e-mail attachments will be added in the near future.
23-feb-2004: Necoso releases dynamic DNS support for GPRS, an option for accessing GPRS devices with dynamic IP addresses using a static domain name.
By default most GSM providers assign dynamic IP addresses for their GPRS service, which means that each time the GPRS enabled device logs on to the GPRS network a different IP address (e.g. 62.133.x.y) is assigned to the device. Usually the option of having a fixed IP address for each GPRS device is only available for large account customers and not within reach for customers with a limited number of GPRS devices or for customers who want to set up a small pilot/evaluation project at first.
In the past the Necoso GPRS application solved this problem of 'dynamic IP addresses' by sending an SMS message containing the current IP address to the user each time the GPRS devices logs on to the GPRS network. This rather user unfriendly and unwanted for situations where there are many GPRS devices or the GPRS enabled devices are to be accessed by an automated process. (e.g. central server polling devices periodically)
Necoso now has a solution for this problem. It is called 'dynamic DNS support' and is based on the free dynamic DNS service of the dyndns.org organization. Necoso has developed an application for its GPRS products that enables automatic updating of a dynamic DNS account each time a GPRS enabled device logs on to the GPRS network. Allowing a user or automated process to access the GPRS device using a static domain name (e.g. www.mydevice.dyndns.org) in stead of an ever varying IP address. Click here for more details...
05-feb-2004: New Necoso website goes live...
A lot effort was done to make the website as accurate, useful and complete as possible - please mail your remarks or improvement suggestions to our webmaster...
12-jan-2004: The NCS0401 has a 'big brother' now
Today Necoso officially launched the NCS0402 product which combines an ethernet and GSM interface for advanced wireless internet connectivity solutions. Together with the NCS0402 two ready-to-use protocol converters are introduced that are based on the NCS0402.
05-jan-2004: Necoso launches NCS0401 product
The NCS0401 is intended as base platform for OEM ethernet connectivity solutions and protocol converters, especially where connection of legacy devices with serial interface (RS232/RS485) to an intranet or the internet are concerned. Together with the NCS0401 a ready-to-use protocol converter is introduced that is based on the NCS0401.
01-jan-2004: New Year - New Venture
Necoso acquires dealership for Europe for Iolia network connectivity products. From now on Necoso will do the promotion, sales and support for the ID1021 product from Iolia Datacom in Europe. Iolia itself will revert to its original business: the development and production of the network connectivity modules. Necoso already has a long-term experience in applying the ID1021 for advanced network connectivity solutions. In the past year Iolia sold some of the GSM connectivity products that were developed by Necoso under the Iolia name. This will now end as network connectivity based activities now been clearly separated and defined between Iolia and Necoso and Necoso will continue to sell these products under her own name.
'This dealership is just the next logical step...' according to Necoso's managing director Robert Hulsebos '...we think this clear separation of activities and focus will in the end be beneficial for all our customers...'